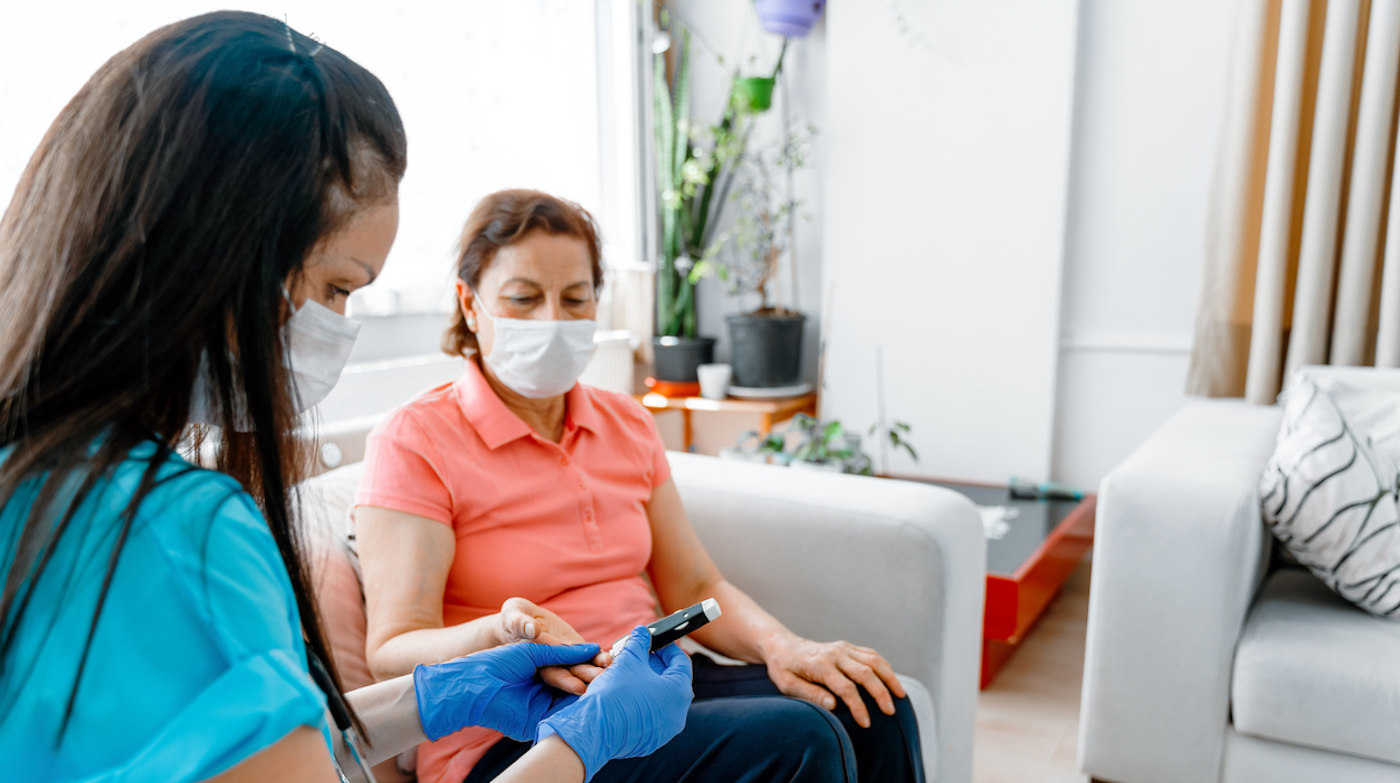 Advanced Medical Care at Home
Advanced medical care at home is an innovative alternative for members with certain acute care needs that would typically require hospitalization. This program is available by referral, and your doctor can help determine if it's a good option for you. It's also completely voluntary — you can choose to receive care in the hospital instead if you prefer.
Common conditions that may qualify for advanced medical care at home include:
Congestive heart failure
Cellulitis
Pneumonia
Chronic obstructive pulmonary disease
Pyelonephritis
Diverticulitis
Your care team will monitor your progress closely and provide the support you need for a smooth recovery. The average duration of the program is 3 to 4 days, depending on your individual needs. Examples of support and services include:
In-person and/or telehealth visits from Kaiser Permanente clinicians
24/7 phone access to clinical support
Clinical services — including infusion of IV antibiotics, diagnostics, lab draws, and more
24/7 remote monitoring, if needed1
Pharmacy delivery and medication management (intravenous and oral)
Member and caregiver education and support
Why choose advanced medical care at home?
Familiar surroundings can help eliminate stress for both patient and caregivers. Most patients experience lower pain levels, fewer sleep interruptions, and improved recovery over time. And studies show that patients who receive hospital-level care at home require fewer tests and procedures and have lower hospital readmission rates.2
How you can qualify for advanced medical care at home:
Your doctor has given you a referral for the services
You and your caregivers are willing participants in your plan of care
The home is in a Kaiser Permanente service area where care can be given safely and effectively
All of your medical care is provided under the direction of a Kaiser Permanente doctor or other clinician
Better in-home care from a connected team
Most home health services are provided by third party agencies — so the care you receive at home is completely separate from the care you receive in a hospital or other clinical setting. At Kaiser Permanente, care at home is delivered by our own care teams — who can access and update your health records, consult with your other Kaiser Permanente doctors and specialists, and have a complete picture of your health history and health care needs. Care at home is part of your overall care experience, so there's less for you to manage, and more we can do to support you.
1Members take their vital signs from their own home and these indicators are monitored by a nursing team 24/7.
2David M. Levine, et al., "Hospital-Level Care at Home for Acutely Ill Adults," Annals of Internal Medicine, January 21, 2020.